A Glance into Canada's Agri-food pilot program
Canada's response to its nation-wide labourer shortage
Overview of Canada's
labour shortage
According to CIC News, the agriculture industry experienced a 3.8% job vacancy rate in Q1 of 2019 on a national level. With an industry that exports $66.2 billion dollars worth of products, and accounts for 1 in 8 jobs, they are experiencing difficulty in keeping up with the demand due to a shortage in available labouers.
Canadian job vacancy rates by province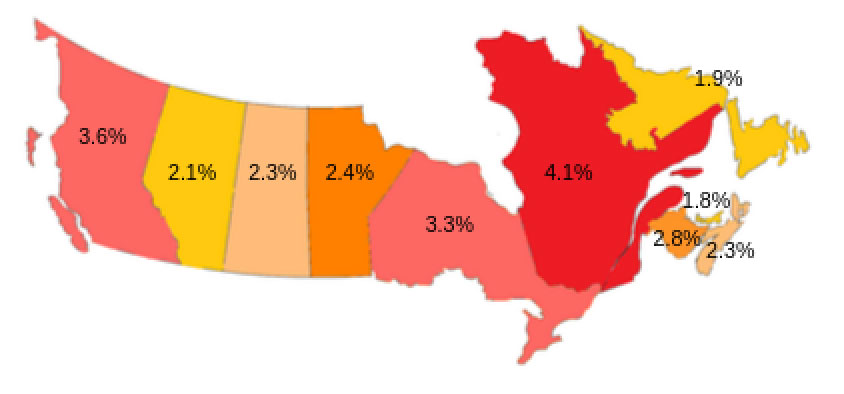 *Data from Canadian Federation of Independent Business (CFIB)
Agri-Food pilot program
The Agri-Food Pilot Program (AFPP) under Immigrants Refugees Citizenship Canada (IRCC), seeks to increase economic immigration to particular cities in Canada that are experiencing a shortage in labourers, specifically in the following fields :
• retail & industrial butchers
• food processing labourers
• harvesting labourers
• general farm workers
– farm supervisors
– specialized livestock workers
What is our role ?
Group NB specializes in providing full staffing solutions for employers. We understand the complexities of the labourer shortages in areas that are remote and have low populations.
We assist you in :
• Getting your employer designation or LMIA
• Putting you in touch with our foreign recruitment networks around the world
• VISA process for foreign workers
• Certifications or training for foreign workers
• Integration your new employees into your company
Agri-food pilot objectives
435
,
000
In Q1 of 2019, there were a total of 435,000 job vacancies nation-wide
50
50 cities have been accepted into this new pilot program
16
,
000
Program is expected to attract a total of 16,000 people in three years